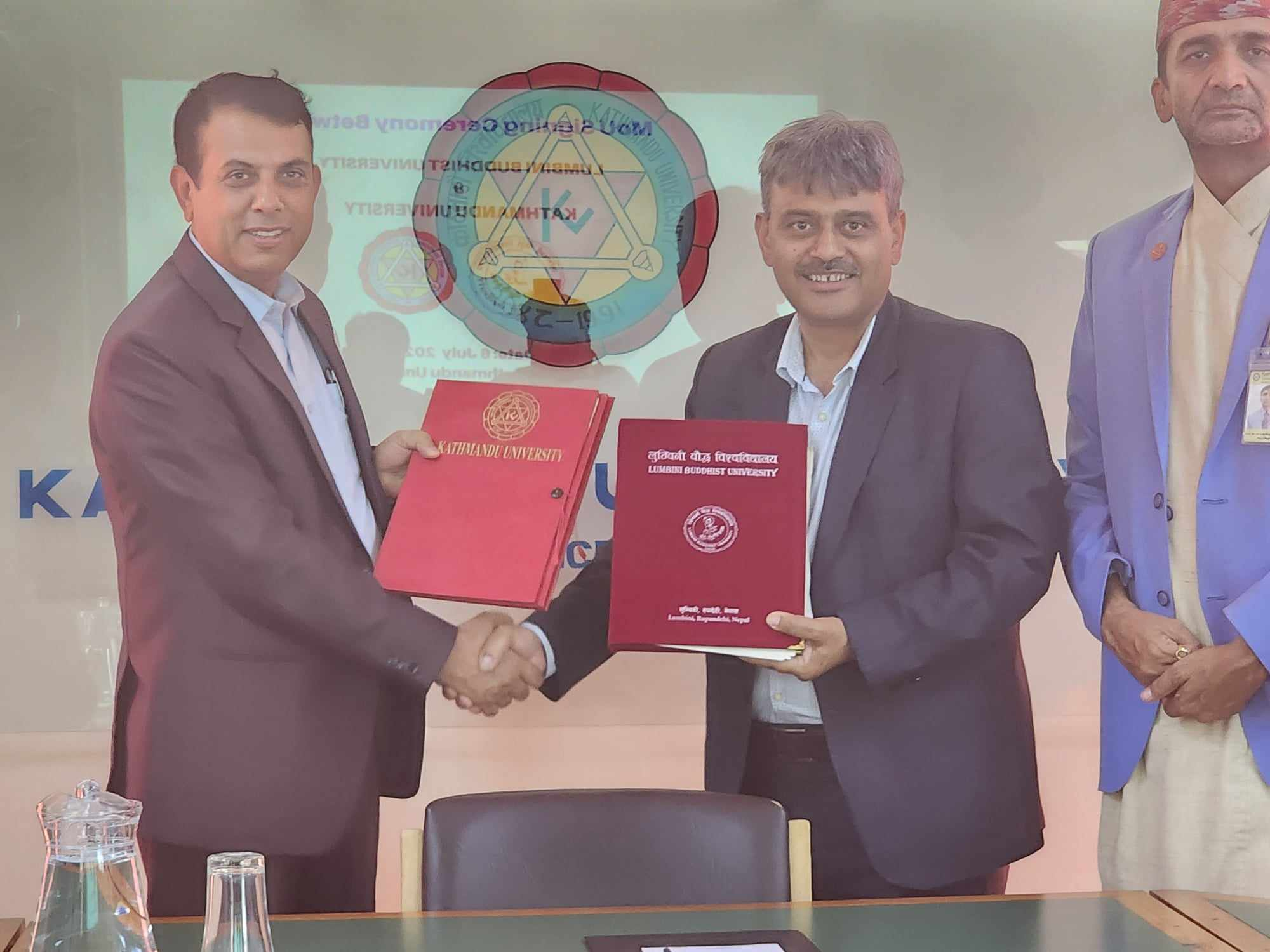 Strengthening Academic Collaboration for Sustainable Development: LBU and Kathmandu University Sign MoU
Hello, dear readers,
I am delighted to share some incredible news with all of you. Recently, Lumbini Buddhist University (LBU) and Kathmandu University took a momentous step towards advancing academic collaboration and promoting sustainable development in Nepal. As the Acting Vice Chancellor of LBU, I had the privilege of signing a Memorandum of Understanding (MoU) alongside Prof. Dr. Bhola Thapa, the Vice Chancellor of Kathmandu University. This landmark MoU sets the stage for a comprehensive partnership that holds great promise for our educational institutions and our nation.
Our collective vision is to uplift the living standards of the Nepali people and contribute to their overall betterment. By joining forces, LBU and Kathmandu University are poised to make a profound impact on the academic landscape and drive sustainable development in our society.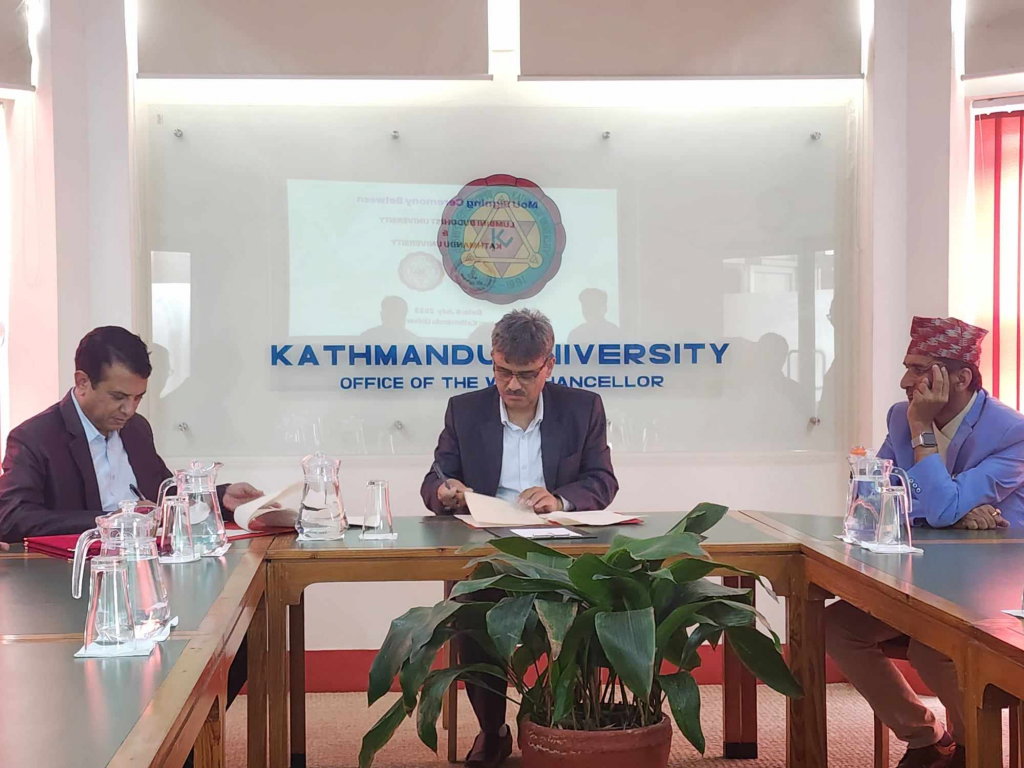 The signed MoU serves as a roadmap for collaboration, outlining various areas of cooperation that will strengthen our respective institutions. These include conducting research programs, creating and operating joint academic initiatives, institutional development and promotion, exchange of academic manpower, student participation in inter-university activities, scientific services and information sharing, and the planning and implementation of educational and training programs. Together, we aim to enhance knowledge, foster innovation, and create a vibrant academic environment that nurtures the potential of our students.
The implications of this partnership are far-reaching. Joint research programs will fuel cutting-edge discoveries and solutions to the challenges facing our society. By establishing joint academic programs and degrees, we will provide our students with expanded educational opportunities, ensuring they are equipped with the skills and perspectives necessary to excel in their chosen fields. The exchange of academic manpower will facilitate the sharing of expertise and experiences, enriching the learning environment for both faculties and students.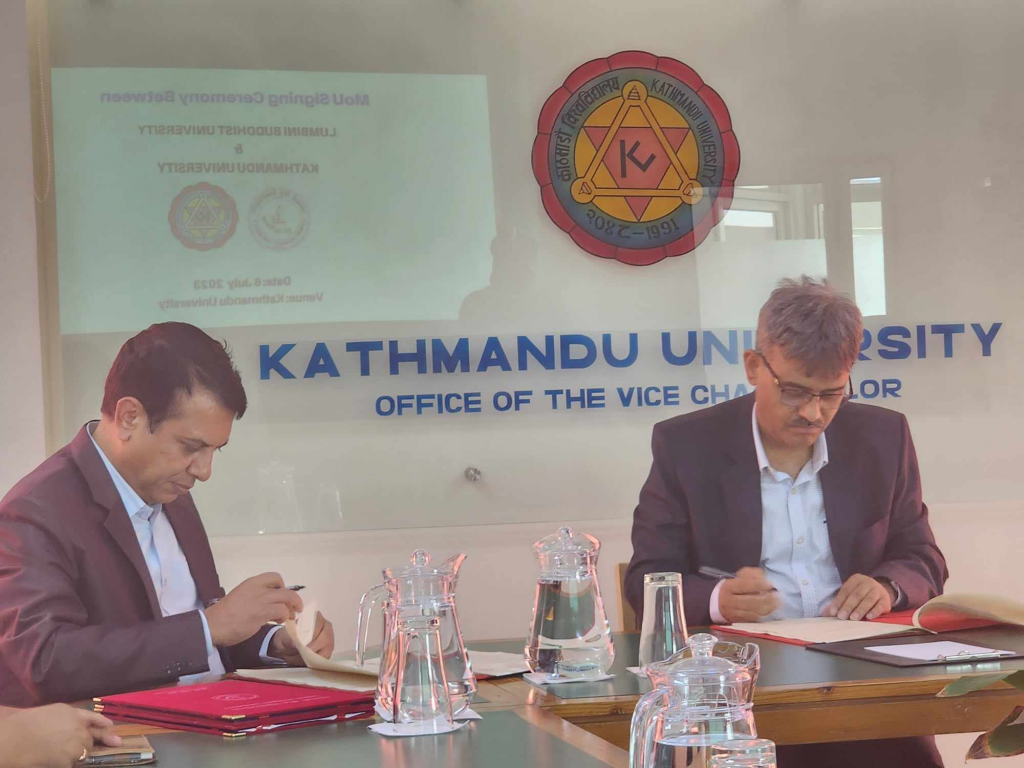 Furthermore, we understand the importance of collaboration beyond the confines of our campuses. By actively engaging in scientific services, information sharing, and the promotion of educational and public interest, we will drive positive change throughout Nepal, contributing to its holistic development.
This momentous collaboration between Lumbini Buddhist University and Kathmandu University is a testament to our shared commitment to excellence in education and research. It is an embodiment of our dedication to serving our communities and nation through knowledge and innovation.
As we move forward, we will keep you updated on the exciting initiatives and outcomes that arise from this transformative partnership. Stay tuned for inspiring stories of progress, impactful research, and academic advancements that will shape the future of our great nation.
Thank you for your continued support, and let us embark on this journey together towards a brighter and sustainable future for Nepal.
Warm regards,
Dr. Tilak Ram Acharya
Acting Vice Chancellor
Lumbini Buddhist University